John Maxwell's 21 Irrefutable Laws of Leadership - Session 1 Noon Knowledge
21jun12:00 pm1:30 pmJohn Maxwell's 21 Irrefutable Laws of Leadership - Session 1 Noon Knowledge851 French Moore Jr. Blvd., Abingdon, VA 24210
Event Details

John C. Maxwell is an internationally respected leadership expert, speaker, trainer, coach and author, whose philosophy is simple: "Everything rises and falls on leadership." For more than 40 years, John has been teaching people to answer their call to lead, to add value to and make a difference in the lives of others. John is a #1 New York Times best-selling author of over 77 books, with more than 24 million volumes sold in fifty languages.

John's book The 21 Irrefutable Laws of Leadership: Follow them and People will follow you has sold over a million copies around the world. If you want people to follow you, please join Peg Ayers of Ayers & Company Consulting LLC, a John C. Maxwell certified speaker and teacher, in exploring the 21 Laws over the course of four noon knowledge sessions. From the Law of Navigation (Anyone can Steer the Ship, but it takes a Leader to Chart the Course) to the Law of Succession (A Leader's Lasting Value is Measured by Succession), these sessions will help you take immediate steps to improve your leadership skills and make you more effective in all aspects of your life.

These sessions are presented by Peg Ayers, MBA, CCXP, John Maxwell certified teacher and founder of Ayers & Company Consulting LLC. Ayers & Company helps contact center executives improve revenue and cut costs by focusing on Customer Experience and Employee Engagement. Peg's been leading large contact centers for such companies as Cendant, Affinion, Office Depot and OfficeMax for over 25 years. Her consulting approach is hands-on, seeking input from the front lines and turning it into practical action for senior executives.

Session 1:
• The Law of the Lid: Leadership Ability Determines a Person's Level of Effectiveness;
• The Law of Influence: The True Measure of Leadership is Influence, Nothing More, Nothing Less;
• The Law of Process: Leadership Develops Daily; Not in a Day
• The Law of Navigation: Anyone Can Steer the Ship but it takes a Leader to Chart the Course;
• The Law of Addition: Leaders Add Value by Serving Others.

Advanced registration is required.

If you have questions, want to register or require additional information, please contact the Virginia Highlands Small Business Incubator at 276-492-2062 or Washington County Chamber of Commerce at 276-628-8142.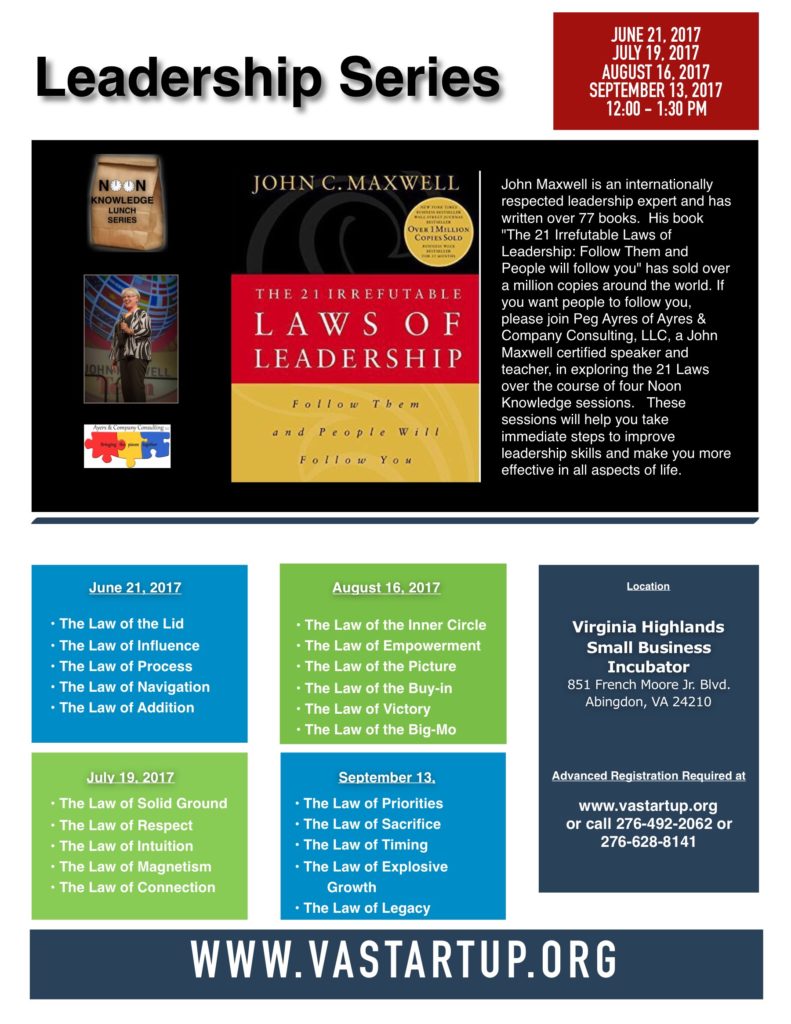 Time

(Wednesday) 12:00 pm - 1:30 pm
Organizer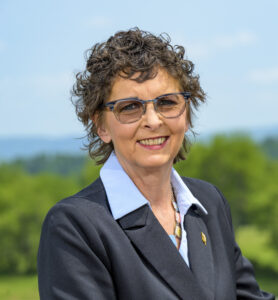 Virginia Community Capital
851 French Moore Jr. Blvd., Suite 106, Abingdon, VA 24210
RSVP Now
RSVPing is closed at this time.